The dry fried meatball is a traditional dish of Han nationality, which is characterized by golden color, crispy outside, soft inside and delicious taste. It can be made into basic meatballs and braised in brown sauce, sugar and vinegar, etc.
It is a delicious food with pork (thin) as the main ingredient, pork (fat) and egg as the auxiliary ingredient, and onion, ginger, cooking wine, vegetable oil, starch (PEA), salt, monosodium glutamate and pepper as the seasoning.
How To Make The Delicious And Appetizing Dry Fried Meatballs
Step 1
Lotus root washed, peeled and rubbed into small pieces
Step 2
Slice scallion, ginger, pepper, seasoning and fragrant leaves into a pot and soak in boiling water for 30 minutes
Step 3
Soak half of the steamed bread in water
Step 4
Add five spices, soy sauce, salt, sugar and white pepper to the meat stuffing and stir well
Step 5
Add an egg to the minced meat and beat well
Step 6
Take out the soaked steamed bread and add it to the meat stuffing and mix well
Step 7
Add lotus root and stir well, then add starch and some sesame oil and stir well
Step 8
Make sure to beat the meat for a while
Step 9
Add some oil into the pot and cook until it is 60% hot, then squeeze out some meat at the mouth of the tiger with your left hand
Step 10
Scoop it out and fry it in oil
Step 11
Fry it to medium yellow, and fish out the meatballs when they are ripe
Step 12
When the oil temperature rises, put in the balls and fry them again to make them crispy
And then when it gets a little bit warm,we can eat the dry fried meatball.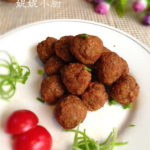 Print Recipe
The Delicious And Appetizing Dry Fried Meatballs
Ingredients(affiliate link)
500

g

Meat stuffing

150

g

Lotus root

0.5

pcs

Steamed buns