Moderately sweet and sour, not greasy.The taste is rich and delicate,and you won't feel any kind of seasoning of abrupt.The color of the great sweet and sour spare ribs is thin, not thick. It's just as good to take the juice and mix it with rice.
How To Make The Great Sweet and Sour Spare Ribs
Step 1
Clean ribs, marinate with light soy sauce, ginger, salt, oil,and put it in the fridge overnight.
Step 2
Heat up the pan with oil, lay the ribs flat. And then fry gently until golden brown on both sides. Add a little dark soy sauce for coloring.
Step 3
In another pot, add some boiling water.Add white rice vinegar, sugar,put in the ribs,(water needs to cover the ribs).Simmer for 40 minutes until the ribs are crisp and fragrant.
Fire to collect juice,sprinkles some chives.
So the great sweet and sour spare ribs are ready.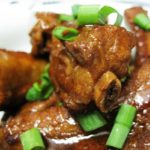 Print Recipe
The Great Sweet and Sour Spare Ribs