The sweet and sour Goo Cha fish is a dish, mainly made of fish, pineapple, etc.
How To Make The Sweet and Sour Goo Cha Fish Which made of Fish and Pineapple
Step 1
Wash and dice the fish, taste with salt, monosodium glutamate and cooking wine. Peel and dice pineapple, blanch for later use. Stir the diced fish with egg and starch, fry in 50% hot oil until golden, remove and control the oil.
Step 2
Leave the oil in the pot, add water, lemon juice, white vinegar and sugar, mix them with monosodium glutamate, boil them into sweet and sour juice, thicken them with starch, pour in the fried fish and pineapple, stir well.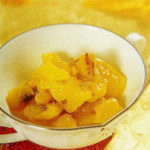 Print Recipe
The Sweet and Sour Goo Cha Fish