The Miguo which looks like fried rice is a kind of food that adults and children love. In general, a few days before the Spring Festival, every family will start to make it. For a time, the fragrance of it permeates the streets.
How To Make The Miguo Which Looks Like Fried Rice
Step 1
Cook a pot of rice in a pressure cooker. Dried bean curd, soak mushrooms and cut into strips. Dice green onion.
Step 2
Wash the shrimps and chop them up
Step 3
Stir fry the mushroom and shrimps in hot oil, add the bean curd strips, add a little salt to seasoning, sprinkle the chopped green onion and rice evenly.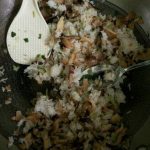 Print Recipe
The Miguo Which Looks Like Fried Rice
Ingredients
500

g

rice

250

g

shrimp

15

pcs

mushroom

100

g

bean curd

50

g

onion

50

g

oil

15

g

salt