The instant boiled mutton dip is the companion of instant boiled mutton. Delicious dip material directly affects the taste of instant boiled mutton. There are so many kinds of dipping materials for instant boiled mutton in the hotel. Today, I make a bowl of dipping materials by myself and dare to make the dipping materials in the hotel more beautiful. Because there are works in the seasoning.
How To Make The Instant Boiled Mutton Dip
Step 1
Prepare marmalade, oyster sauce, homemade chili sauce, homemade leek flower, tomato chili sauce, cooked sesame, sugar, wolf berry,
Step 2
First, warm the sesame paste with water and salt and a little sesame oil to make it paste.
Step 3
Put the other seasonings into the mash.
Step 4
Stir the mash and other seasonings into a small bowl. Make fun of it! Sprinkle with chopped green onion and cilantro. It's better to add chili oil.
And the instant boiled mutton dip is done,you can try it with mutton.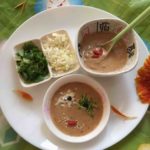 Print Recipe
The Instant Boiled Mutton Dip
Ingredients
accessies
Homemade chili sauce

Homemade leek flower

Tomato pepper

Sesame

Cilantro

Chopped green onion