The Wuzhou tea flavored spareribs are home-made dishes with tea and spareribs as the main ingredients. They are fragrant, nourishing kidney and blood, nourishing yin and moistening dryness, and rich in nutritional value.
How To Make The Homely Wuzhou Tea Flavored Spareribs
Step 1
Prepare tea leaves, ginger, onion, garlic, coriander and other ingredients.
Step 2
The preparation of tea needs to be explained that if you can't buy Wuzhou Liubao tea, you can use Pu'er instead. It is not recommended to use green tea, because the color of ribs is not harmonious, the taste is a little bitter, and the taste of black tea is pure and fragrant. There are bags for tea, which are sold in supermarkets and used for soup making.
Step 3
Put cold water into the pot (If the ribs suddenly get hot, it will cause the blood water in them to solidify and cannot be discharged, and the taste will become poor, but cold water can solve this problem). Put the ribs into the pot, boil the water for a few minutes, and then rinse the ribs with water for standby.
Step 4
Add oil in the pan, put down the ginger and garlic, stir fry the ribs until the ribs are a little yellow.
Step 5
Add hot water in the process of stir frying (ribs will harden when it suddenly in cold, and the taste will not come out, so hot water should be used at this time), just over the ribs is the right amount. Add tea, oil, vinegar, salt and other seasonings, stir and cover to continue cooking.
Step 6
When the water is about to dry, add white sugar (don't add sugar too early, sugar will become bitter after cooking for a long time) and stir, then continue to cook.
Step 7
After collecting the juice, put in the saucer, sprinkle the chives, put on the coriander, and finish the delicious Wuzhou tea flavored ribs.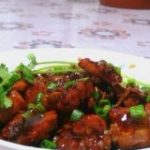 Print Recipe
The Homely Wuzhou Tea Flavored Spareribs