Steamed egg with crucian carp is a famous dish with all the flavors, belonging to the Jiangxi cuisine.How does steamed egg with crucian carp make the most delicious? This dish is easy to learn and tastes good. I hope my sharing can help more friends.
How to Make Steamed Egg with Crucian Carp
Step 1
Fresh crucian carp is slaughtered and the scales are scraped off, gills removed, internal organs removed and washed.
Step 2
Put the head, fish tail, and the middle of the fish in the bowl, add the salt, the cooking wine, and slightly marinate.
Step 3
Fish marinated for a while, put 15 grams of spring onions, ginger (crumbs), steamed in a basket.
Step 4
Remove the fish after steaming, pick out the onion ginger, remove the fish head and fish tail, and keep the soup
Step 5
Pick out fish bones and fish bones. Fish body for spare.
Step 6
Add 300ml of water and fish soup to egg white, and add MSG and salt to the right amount.
Step 7
Take a large soup bowl, pour half of the egg mixture, steam it in a basket and remove it. Then put the shaved fish body.
Step 8
On both ends of the fish, put the fish head on one side and the tail on the other side, which looks like a whole fish.
Step 9
Add the other half of the egg liquid, steam it in the basket and remove(This step makes the catfish covered by the white egg white, only the head and tail are exposed. If this step is omitted, the catfish will float on the egg white.)
Step 10
Sprinkle 5 grams of green onions and drizzle with sesame oil.
Such delicious steamed egg with crucian carp is complete.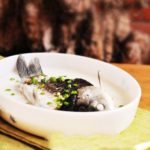 Print Recipe
Steamed Egg with Crucian Carp
Ingredients
crucian carp

150

g

egg white