Food is not divided into levels, whether it is in the hotel or street food, as long as you like it is food. For those who love food, it is not just a taste enjoyment, but also a kind of spiritual enjoyment. Today I will share with my favorite food— fancy roll bread.So how to make fancy roll bread?Let's take a look today.
How to Make Fancy Roll Bread
Step 1
Put milk, eggs, sugar, salt, and salad oil into the bread machine. Add sifted flour. Dig a hole in the flour and add yeast powder. Set the kneading program. Then let it sit for a while to ferment until the honeycomb appears inside.
Step 2
Divide into equal parts according to your own preferences. About 30 grams each.Then knead the dough into round balls and squash them. Add the right amount of filling. Then wrap it. Flatten it again to make a pancake.
Step 3
Cut into strips according to personal preference and roll them up. Place in the oven and let it ferment for a second time. I set the fermentation temperature to 45 degrees for 40 minutes.After the fermentation is completed, set the oven to fire, the temperature is 160 degrees, and the time is 20 minutes.
Such delicious fancy roll bread is complete.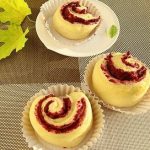 Print Recipe
Fancy Roll Bread
Ingredients
auxiliary material
40

ml

salad oil

230

ml

milk

2

g

salt

60

g

sugar

5

g

yeast powder

purple potato puree

1

egg